Ares Scares
Dante Distarious
Dead X
Iceburg
JPX
Nathan Dawn
Nightmare
Ravage
SX Rocker
The Dark Angel
The Technician
XJ Kahos
Here Is The Current Roster For MXW. Below Is There Bio And Info About The Wrestlers In MXW And Click On Any Of There Pictures To Go View There Facebook Pages.
Chairman Of MXW XJ Kahos @XJKahos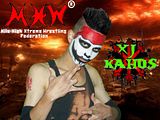 Height: 5'12"
Weight:148 lbs.
From: Montbello,Colorado
Finsher Moves: Kahos Theory,Shocking Ninja
The Chairman Of MXW Xtreme Juggalo Kahos Is The Founder Of Mile-High Xtreme Wrestling Federation. He Is From Montbello,Colorado. But XJ Kahos Does Not Like To Be Like Everyone Else Who Thinks Everything Is A Joke This Juggalo Is Not Your Ordinary Funny Happy Clown XJ Kahos Is A Wicked Homicidal Clown Who Will Fuck You Up For Thinking That Just One Word Of Advice Don't Fuck With XJ Kahos In Or Outside Of The Sucidal Arena.
Height: 6'4"
Weight:190 LBS.
From: Brighton,Colorado
Finsher Moves:The Harvest,The Six Feet 
Ares Scares is a 1 time MXW world Champ 5 time MXW xtream Champ Ares Scares is the man to beat in MXW if you can beat him at his game inside a hardcore style match then you have done something in MXW Ares Scraes is from HBW he came to MXW to only better himself and win all the MXW belts Ares Scares has bled more then anybody in MXW and he will do anything for a win his list of people that he has beat is Ravage XJ Kahos Nightmare SX Rocker Skinni Paul Stetich Lucky The Clown JC Toxic Warehouse Worrier and more it is easy to say that Ares Scares is one of the best if not the best in MXW Ares Scares main goal is to win back the MXW world title and to beat everybody in MXW.
Daunte Distraious @RobDaunteD
Height: 5'6"
Weight:140 LBS.
From: Cleveland,Ohio
Finsher Moves: Suicide Splash, C-Town Drop
Known as "The Daredevil", JPX is the newest member of MXW. Before he even became a wrestler, He started out as a huge fan of MXW and the wrestlers of XJ Kahos, SX Rocker, and Ares Scares. Despite being the smallest wrestler on the roster, don't let his size fool you because JPX is a tough SOB and can wrestle with the best of MXW. Having some wrestling background in the backyards of Cleveland, Ohio and have 8 years of martial arts training, He is blessed with athleticism. He is also a risk taker and has been known to do the most jaw dropping high flying moves. What makes JPX so dangerous is that he is unpredictable and will do whatever is takes to win, even by means of having to risk severe injury. Hoping one day to achieve the dream of being the MXW World Champion, He has a lot to prove. But one thing is for sure is that JPX will be a difficult opponent to beat. The rest of what happens to JPX in the future remains to be seen.
Height: 5'8"
Weight:200 lbs.
From: Manitou Springs,Colorado
Finsher Moves:Dawnbreaker
In an industry rife with cartoonish personalities, Nathan Dawn looks down upon his contemporaries with villainous scorn. He seekd to gain his success throught the fundamental pillars of skill, technique and determination, rather than with the kind of vibrant persona that entertains and delights audiences. Despite his distate for tomfoolery, Nathan Dawn is a precise and methodical in-ring technician who poses a threat to any opponent.
Height:5'10"
Weight:185 LBS.
From: Thornton,Colorado
Finsher Moves: The Bad Dream,The Night Terror Vice Grip
The Nightmare is a vicious competitor in the ring, who gets a thrill out of causing pain and torcher to his opponents. Even to go as far as using a fork on opponents to obtain his goals. He always tries to look for weakness and fears that he can use to his advantage. He is determined to get to the top and leave a long lasting impression on everyone!!!
Height: 5'5"
Weight: 260
From: El Paso,Texas 
Finsher Moves:Rocker Dropper,Rocker Elbow
"The Salvadorian Saint" SX Rocker Is The Self Proclain Best MXW Wrestler Rocker Has Been With MXW For 2 Years He Has Held Titles Such As The Xtreme Title And The MXW World Tag Team Titles Rocker Has Been Threw Alot In MXW. He Has Left MXW And Always Came Back. He Is One Of MXW Greats A MXW Rocker Will Make History In MXW For Months To Come.
The Dark Angel @MXWDarkAngel
Height: 6'4"
Weight: 310
From: Fairfax, Virginia
Finsher Moves: The Solution, Tech Support, Sharp Shooter
The Technician has been with MXW since July of 2011, and while he is a newcommer to the MXW scene, he's a top contender for the MXW title and aims to be MXW Champ in the near future. With a mastery of hundreds of technical moves, mixed with the sheer power and strength this monster brings to the ring, no one will survive an encounter with the Technician; he's got a Solution for everything.